The Newborn Book
The Newborn Book is a comprehensive practical reference of physical findings in newborns. With clear color photographs of each and every finding discussed, this easily accessible resource is essential for pediatricians, neonatologists, neonatal nurses and other healthcare professionals who provide primary care for newborns.
view book
Unique Features
------------------------------------------------------------------------------------
In-depth information on over 250 topics
Extensive differential diagnoses for each condition
Addresses breastfeeding and lactation management for at-risk mother-baby dyads
References listed by topic to facilitate further research
_________________________________________________________________________________
"I have been board certified in neonatology for over 30 years and this is by far the best done and most extensive collection of newborn images I have seen."
"This text is an excellent collection of photographs of a variety of conditions that are seen in the otherwise well neonate. It is an essential text in any newborn regular care nursery, well child clinic, and primary care office."
"I am of the opinion that this book should be present in every nursery and over time will become a 'classic.' "
"Impressive from the very first page, this is a resource like no other. Packed with high quality photos, it covers every usual physical aspect of normal newborns, as well as countless variations one might also encounter on exam."
Dr. Janelle Aby
Janelle L. Aby, MD is a Clinical Professor of Pediatrics at Stanford University and is the Medical Director of the Newborn Nursery at Lucile Packard Children's Hospital. She is passionate about training medical students, nurses, and physicians in the care of newborns including the recognition of physical findings specific to newborns.
about the author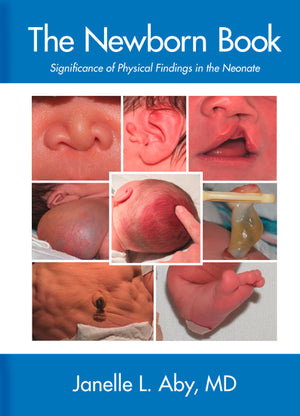 The Newborn Book
Sale price Price $ 165.00 Regular price